Cal-Tex Companies Hosts Annual Christmas Party for Employees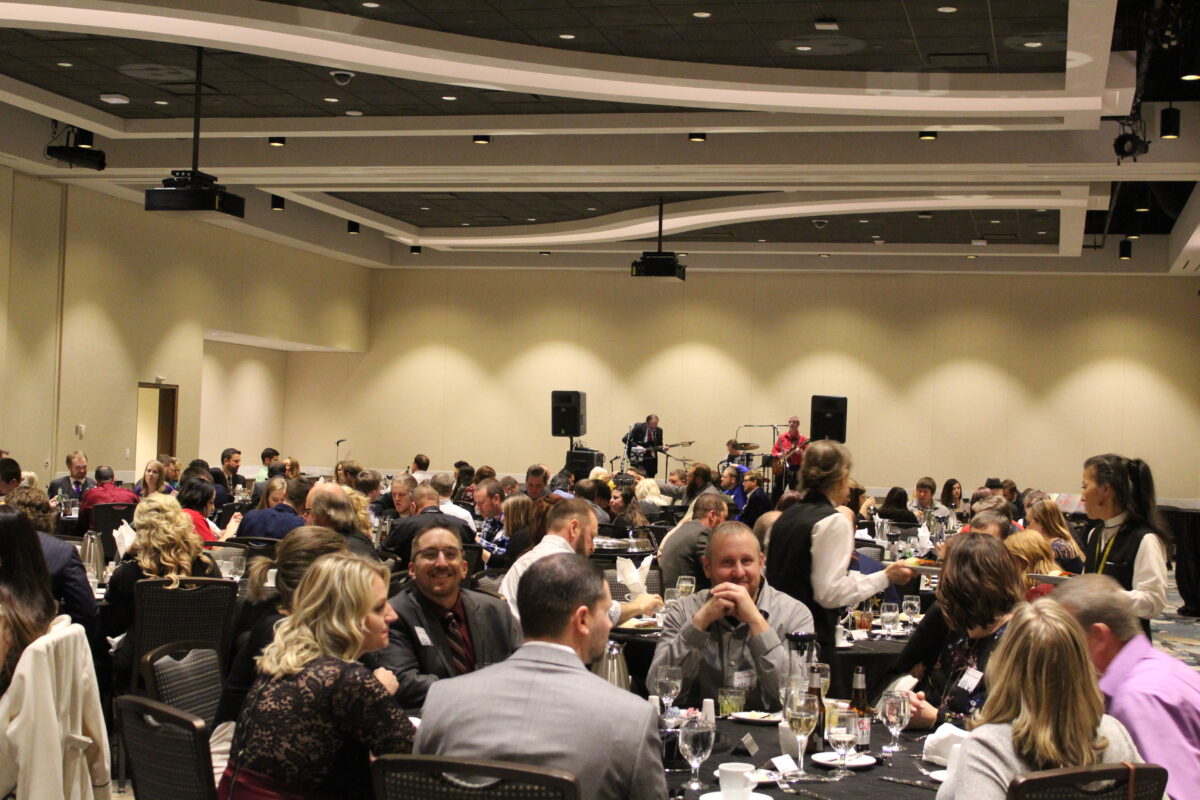 More than 100 Cal-Tex Companies employees and their significant others gathered on December 8 at Mystic Lake Casino in Prior Lake for the company's annual Christmas Party. The evening was a blend of fun, recognition, and celebration of the hard work and dedication that has helped the company grow to being the leading merit-based service company in the Twin Cities.
Cal-Tex employees and their significant others began the evening with a cocktail hour and some great door prizes, then enjoyed a delicious dinner and memorable entertainment. They finished the evening with the presentation of an array of employee awards.
Cathy Theis, Cal-Tex Office Manager, planned every detail of the Christmas party, from name tags to the venue. "Cathy executed an elegant party for our employees to unwind from a hectic year," noted Mike Toepfer, COO of Cal-Tex Companies.
The party started when Cal-Tex employees entered the Isanti Ballroom where the Christmas Party was held and were handed a $50 voucher to either cash out or gamble on the casino floor. Later on, Ronnie Bassett, Cal-Tex CEO, challenged the electricians to state the company's mission statement. Every employee that was willing and able to cite the mission statement (in front of everybody!) was awarded a crisp $100 bill. After dinner, Ronnie and Mike Toepfer (Cal-Tex COO), kicked off the awards and recognition ceremony.
At the Christmas party, six employees were recognized for 10 years of service with Cal-Tex: Matt Trevis, Josh Humphrey, Dave Kleis, Kohl Bailey, Ray Roubik and Hans Hanson were awarded 10-year service plaques.
Every year Cal-Tex Electric recognizes four electricians, and this year the field electricians nominated each other for these awards. The awards handed out were:
Most Improved of the Year: Sam Mertens
Mission Award 2018: Joe Kolstad
Apprentice of the Year: Brian Witzany
Journeyman of the Year: Shaun Pivoran
In 2018, Cal-Tex Companies expanded in the Technologies and Construction divisions. At the Christmas Party, Cal-Tex recognized Andy Schaper as Technician of the Year for Cal-Tex Technologies and Steve Nelson as Tradesman of the Year for Cal-Tex Construction Services.
Cal-Tex Companies is proud of their employees, and all they do to represent the company in a positive professional manner.
To learn more about us, visit our Company page.